by Cork Sports News January 23, 2021
The late Gerry Hurley refereed games with a calmness and refreshing way that earned him complete respect by all in schoolboy football in Cork.
He didn't want any kids walking off a pitch disappointed and he left behind a wonderful legacy that will be forever remembered by those fortunate to be in his company.
Cork Sports News caught up with his son, Guy who has nothing but beautiful memories of his dad.
Can I start by bringing you back to your own memories of your late father Jerry and the connection with football?
"Yeah, my dad was a great man, he worked in True Temper (a gardens tools and shovel mill) in White's Cross for over 30 years where he worked on the floor making shovels and also he was a Trade Union shop steward for his fellow work colleagues.
"I have great memories of him working during the early 80's especially when we only had one car and my mom would pick my dad up from work every evening and myself and my sister would be playing and running around outside the True Temper factory waiting with great anticipation for my dad to finish work.
"I can remember my dad coming out of the factory with filthy work clothes from a hard day of work adding that to his thick dark beard and thick dark hair you could barely recognise my dad, he had many interests and loves in life but three of his main loves were his family.
"He was a very good dad and it was always my mum who would give out to us, not my dad and I can remember even when we
were asleep at night my dad would check in on us and my mam would say Jerry leave the kids alone you will wake them up and we would always wake up and then we say hi dad and then we would rollover and go back to sleep.
"Another passion of his was singing, it ran in his family with his brother and his sisters all able to sing, my dad would take part in karaoke competitions and myself and my sister would follow him around to all the competitions, I remember my dad pausing and playing his tapes
as he learned the words of songs and at the end of competitions he would ask myself and my sister, how do you think I did, did I do okay which we always would say, yes, you were great as we were his number one fans.
"He won many trophies when he was singing which he was very proud of.
"Finally, his last passion was football in which he was a huge Man United fan especially in the 70's, he used to model himself on George Best as he wore his 70's style clothes especially his bell bottom pants, his long dark beard and his long dark hair, unfortunately he didn't have the skill of George Best hilst complaining about his dodgy knees and his bad hip.
"In his playing days, he played centre back for True Temper in the Business League, the team won a number of league titles.
"He also played football for Tower FC in Blarney.
"When I came of age and started playing schoolboys football playing for Blarney United FC from 8 years of age to 16/17 years of age. my dad was very dedicated to watching me play and would go to every game home and away and there were times I would play two matches at the weekend for my own age group and the age above my group.
"My dad would offer advice to me after the game explaining to me where I could improve my game and also he would also praise me if I played well and I would get a bonus if I scored a goal such as a can of coke and a bag of crisps.
"There was one time, he was actually the manager of my soccer team but he did not show any preference, not too much anyway.
"He also joined the Blarney United committee and always had a soft spot for the club even when he was a referee in later years.
"As I got older and I stopped playing schoolboys football, my dad did not want his interest to end in football especially at the weekend so he decided to take up refereeing and he found a new passion in which he spent over 20 years involved," said Guy.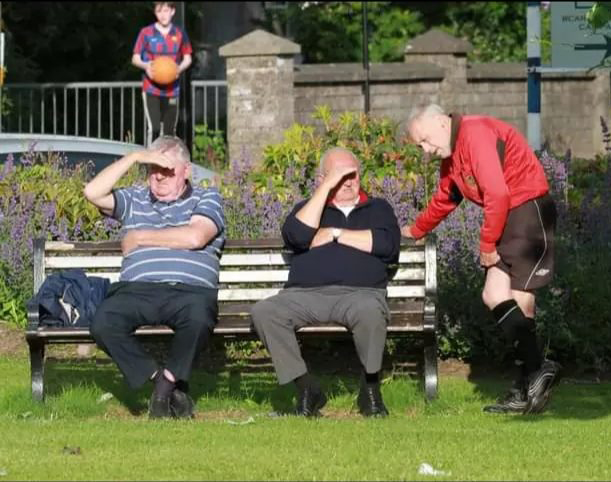 Gerry pictured chatting to two friends at a match.
And your fathers massive commitment to refereeing Guy spanning many decades what was it like growing up in a house where your dad was basically gone out the door every Saturday and Sunday morning to referee matches?
"My dad loved refereeing, he didn't mind getting up early for matches at the weekend even though he was working Monday to Friday, the weekend soccer kept him going.
"On the Monday, the matches would come out in the Evening Echo and my father would look up to see what matches he was refereeing, he would then spend evenings analysing each game and the league table and how both team were doing in previous matches, he would tell
me about the two teams and even go through the statistics telling me if he reffed these team before and if they had any good players and how he would think the match would go.
"When the weekend came he had his bag packed with his boots, his referee's gear, a couple of change of clothes just in case he was refereeing a couple of matches and if just in case he gear was soaked if it was raining.
"He would check the night before if he had his watches and his referee whistle, match cards, yellow and red cards even though he never used them and to make sure that he had a couple of pencils and notepad.
"If he was refereeing a match such as in Youghal, he would be off early, he could have two or three games on a Saturday and even maybe
two or three on a Sunday and over a number of years he got to know coaches from different teams and he would always get the phone call would you mind doing a friendly for us, my mom was never happy about that but he would always say I can't turn down these matches and even though he complained after the matches about his hips being sore or his health or because it was raining or freezing cold, there was no other place he wanted to be but out in the middle of a football pitch, it was his passion," commented Guy.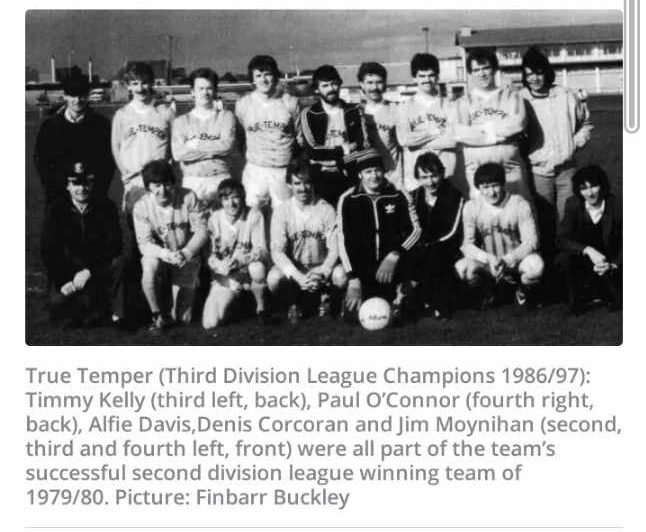 Gerry pictured with his True Temper teammates after lifting the league title.
And tell us about some of the stories he could tell Guy, there must have been a few crackers down through the years and could you pinpoint one or two of his greatest moments in the game?
"My dad loved seeing kids enjoying the game, his philosophy was it didn't matter what the score was as long as all the kids enjoyed playing football.
"He always had great encouragement and advice for young players.
"He always told me there were times where team might be getting hammered but he would always tell the young players to keep the heads up, you'll definitely get a goal in this game and there where many suspicious offside goals or penalties given to the losing team so that everybody would go home happy.
"As I said about the yellow and red cards, I don't think my dad knew what they were for.
"I spoke to another referee after my dad died and he told me you would have to do something very bad for my dad to give you a yellow card, I was informed that my dad was given a nickname, the nice referee and especially after my dad died many coaches would tell me about how he encouraged the young players and the respect the clubs held for him as my dad was a referee for over 20 years.
"He saw many great young players play school boys football and he would make sure to tell me especially if they reach the top of the football profession in England or in the League of Ireland he would say I remember refereeing that boy, he always had great talent from an early age and he was always proud to see kids do well in life.
"As I said, he had a soft spot for Blarney United and the football pitches were just behind our house so he was delighted when he would get a Blarney United match, even though the dressing room was only a small walk from our house, he would drive to the pitch so as the other team would not know that Blarney Utd was his local team.
"He was always proud to ref the big schoolboy matches, the cup finals especially in Turners Cross and he would give these trophies or medals a pride of place at home.
"Another proud moment for my father was when he was inducted into the Hall of Fame by the Schoolboys Referees Society for honoring his achievements and dedication.
"Myself and my family were at the event to watch my dad receive his award, he was over the moon that night and we were so proud of him," mentioned Guy.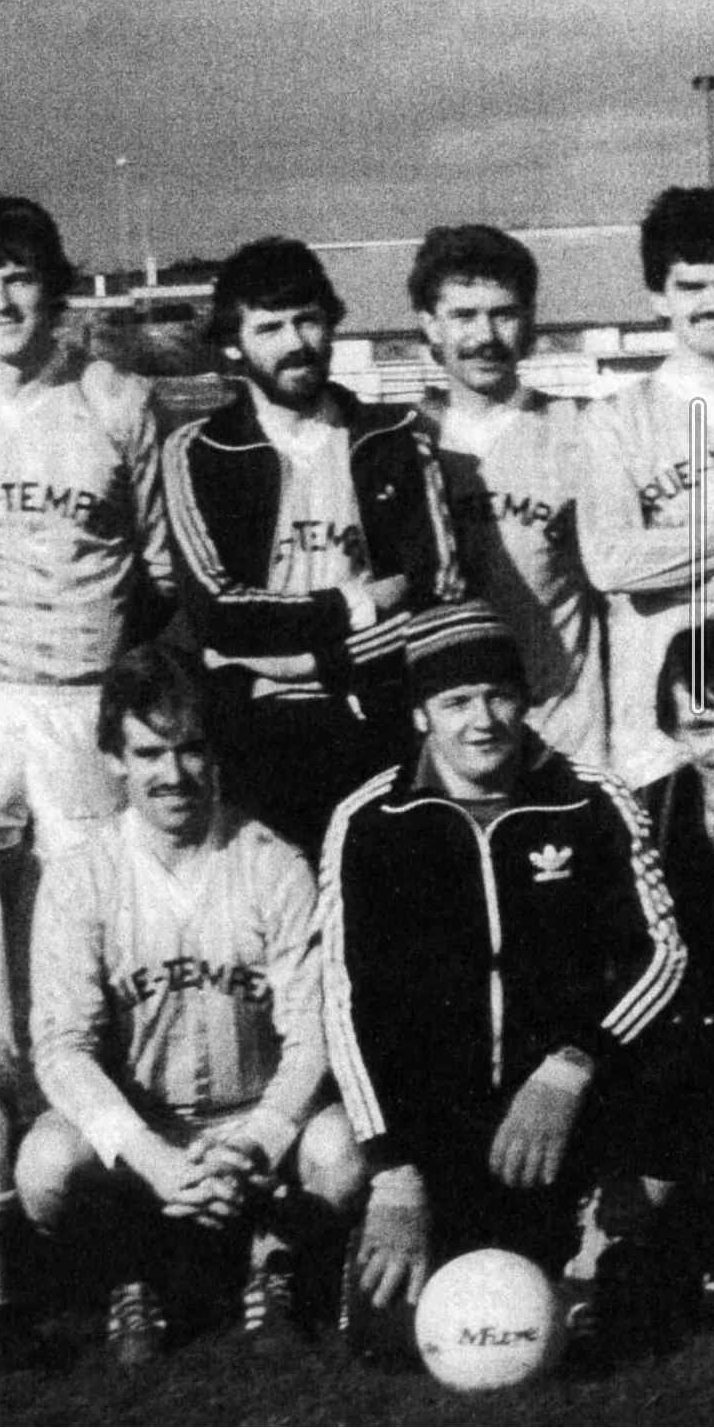 Gerry with the trademark dark hair and dark beard lining out for True Temper.
You are doing the job now yourself Guy, do you find yourself replicating your dad in anyway or have you your own style when it comes to refereeing?
"I only took up refereeing recently, I used to work every weekend but I changed jobs a couple of years ago so I got weekends off.
"Once my dad found out that my weekends were free, he quickly signed me up for refereeing, I think he wanted to pass on the mantle.
"He got to see one of my games before he died and he informed me that he was so proud to see me out on the pitch in
the black kit.
"Unfortunately, it hasn't been a great start for me, the first season I had a lot of games called off because of bad weather and this season has been a write off because of the COVID 19 Pandemic so I have only reffed a few games.
"Yes, I do find myself replicating my dad a little bit as I also like to see the kids enjoying themselves and I always feel a little bit sorry for the losing team.
"I do miss my dad for the advice I'm sure he would have given me but hopefully once this pandemic is over I will find my own style of refereeing while at the same time known that my dad is still looking down on me," said Guy.
Finally, Guy, how different is the game now from when you dad first started out and the modern game today, I imagine facilities and pitches are much better and are you looking forward to football returning hopefully in the near future.
"Yes, the game is now different compared to when my father started out.
"There is so many different rules and laws for the referee to learn these days and a lot of changes in the rule book.
"Premiership football is being watched by the young kids all the time these day and some very good but also quite bad vibes are creeping into the game such as player simulation and questioning every referee decision.
"But some good thing as well such as health and safety and looking after the kids and making sure that fun and enjoyment is the number one priority for the game is a massive plus point.
"Yes, facilities and pitches are so much better now with the FAI putting so much money and resources in to underage football.
"As I said I am only a short time refereeing and I was really enjoying the game until this pandemic came so I really hope that football does return but only when it is safe to do so but I cant wait to see kids back out on the pitch," concluded Guy.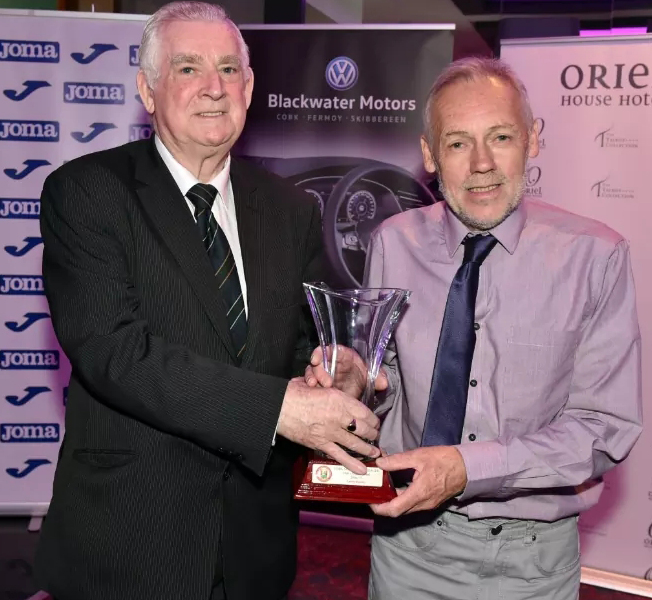 Gerry being presented with his Hall of Fame trophy by former FAI President, Tony Fitzgerald
Cork Schoolboy's League Hon. Secretary, Eddie Doyle added, "Gerry was a legend in schoolboys football, he was loved by everyone, the kids called him the 'nice ref'.
"I have never heard anybody give out about him, in fact, one day he went to the away pitch instead of the home pitch by mistake, the home manager rang me to say Gerry hadn't turned up, he was more worried that something had happened to Gerry because he wasn't there rather than the fact they had no referee, he is sadly missed by all of us," concluded Eddie.